TEEP denotes Taiwan Experiential Education Program, which was initiated by Ministry of Education (MOE) of Taiwan government three years ago. For the successive three years (2015-2017), the TEEP center at National Sun Yat-sen University (NSYSU), located in Kaohsiung City of Southern Taiwan has continuously applied and gained the funding to conduct International Consulting Program in Taiwan (ICPT). With much experience accumulated, this coming year the center launches a new project "2018 TEEP@Asia Plus: Cross-Border E-Commerce (CBEC) Talents Promotion Program" to recognize the rising importance of B2C e-commerce business within the global village without state boundaries.
As the host of TEEP@AsiaPlus, NSYSU is one of the top ranking universities in Taiwan in the field of business management, with three consecutive AACSB accreditations since 2005, energetic and active international exchange programs, abundant resources from alumni, diversified industry cooperation experience with local business community. All of these fruitful ingredients combined contribute to the formation of the TEEP@AsiaPlus. We are proud to be the only program to offer this kind of internship in Taiwan during the summer and win subsidy from MOE for 4 consecutive years.
What is 2018 TEEP@AsiaPlus?
Taiwan has been developing B2C e-commerce, including digital marketing, cross-border e-commerce (CBEC) logistics, and information services since 2004, while ASEAN and South Asian nations are just to start leaving its mark on the worldwide E-Commerce scene. Taiwan's e-commerce platform in these regions has a considerable competitive advantage. To grasp such business opportunities, human talent plays a key role for Taiwanese companies to develop their cross-border e-commerce markets in these regions. Therefore, we proposed this "CBEC Talents Promotion" internship program to help to facilitate international youths' professional learning on the one hand, and help local enterprises to gain more internationalized experience and talents on the other. In the end, Taiwanese companies are able to use cross-border electronic and physical distribution channels to sell quality and affordable products.
"ASEAN and South Asian Cross-Border E-Commerce Talents Promotion program" is a team internship opportunity for international youths who are specifically interested in seeking their future career development in economically booming Asia area where cross-border e-commerce has become an Emerging trade patterns. ASEAN and South Asian markets have Strong growth potential for e-commerce. Our Internship Program is well designed to help to facilitate international youths' professional learning on the one hand, and help Taiwanese enterprises to gain more internationalized experience and talents on the other. At the end, Taiwanese companies are able to use cross-border electronic and physical distribution channels to develop and expand their business in ASEAN and South Asian markets.
What activities 2018 TEEP@AsiaPlus includes?
A 9-week of intense training in CBEC talents promotion internship program will be provided. A team of 5 participants from different countries and with diverse academic expertise and business experience will be formed and dedicated to conduct a specific project with an aim to solve the challenges facing the local Taiwanese e-commerce industry and finally provides some executable recommendations. Each team will be assigned an exclusively advisor, who is a senior practitioner in consulting industry with much business experience and connections in their career and will guide the team by accompanying them to visit the client (local e-commerce industry), meeting to provide help each week. Local e-commerce industry will be invited to participate and cooperate with CBEC program. While offering this precious opportunity for teams to practice and sharpen consulting and problem solving skills, to get comprehensive understanding of business culture in Taiwan, they really expect to see innovative and practical recommendations and solutions related to their current challenges from an international team. Therefore, the mission of the all CBEC participants is to provide a solution for clients within this period.
Client visiting will be planned weekly to find out more facts, to identify and discuss potential issues, and to report the findings is also required to further consolidate the progress of the project. Midterm presentation is arranged to check the project progress and teams have to present in front of all clients, advisors, and judges. Final presentation is the time to demonstrate what the participants have done and your recommendations to clients.
What training will be provided?
While our participants come from different countries with diverse academic and industry backgrounds, some even with fruitful business experience, we strongly believe that some advanced skills in personal and as a team are required to win trust from your client and make a successful consulting team.

For the first week on site, we will invite professional lecturers with abundant consulting experience to equip participants with the following building blocks of consultancy and problem solving skills, including teamwork and project management, presentation and business writing, logical thinking, problem solving and management tools.
What other events applicants will experience?
To better equipped international participants with sense of Taiwanese culture and for enjoyment in their leisure time as well, at least three scenic trips will be organized during this period. Last year, we arranged trips to Fo Guang Shan(Buddha culture) in Kaohsiung, National Palace Museum in Taipei, and Indigenous Peoples Cultural Park in Pingtung, and one mountain climbing to visit monkeys. Besides, language classes are also provided to improve their communication ability in Chinese and a test will be conducted to determine their Chinese proficiency level in the final.
Watch videos in the past two years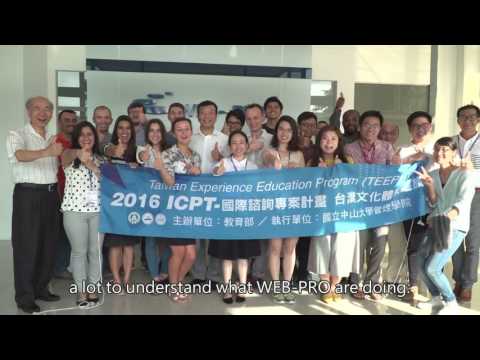 This is an overall introduction of TEEP@ICPT in 2016. From this video, you can see whole picture of this program from the clips of every activities and events included.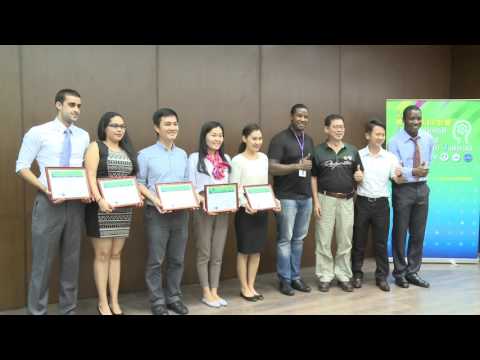 This is an English introduction of 2015 TEEP@ICPT.
Schedule for 2018 program
Detailed information will be provided and updated at any time later.
Benefits for Participants
(1) Professional experience, particularly in CBEC area
(2) Chance to work with international talents
(3) Opportunity to learn more about Taiwanese business culture
(4) Free language classes to enhance the communication proficiency in Chinese
(5) Cultural trips and activities to understand the unique Taiwanese culture
(6) Allowance for Living Expenses with NT 10,000 to 15,000 monthly.
(7) Possibility to be recruited as full time or extra intern worker in Taiwan after the program
What participants we expect?
We welcome all international youth talents who are interested in seeking their careers in Taiwan to apply. As for the academic degree consideration, applicants with MBA degrees are on the first priority, followed by other master's degrees, BBA degrees, and other undergraduate degrees. Nonetheless, applicants' status can be upgraded upon receiving appropriate information and documents to demonstrate and justify their qualifications.

Skype interviews might be requested to Non-native English speaker applicants.

All in all, this is quite an amazing summer internship opportunity in consulting project for international youths all over the world, providing a once-in-a-life-time experience working with international talents, local Taiwanese companies, and senior consultants at the same time. Therefore, what are you waiting for? Apply now!